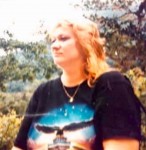 May 25, 2018
Born in Jacksonville
Resided in

Catskill

,

NY
Obituary
Alice Ann Inkell
August 24, 1960 -May 25, 2018
After a long fought battle with respiratory illness, Alice finally found peace and freedom early in the morning on May 25, 2018.
Alice was born August 24, 1960 in Jacksonville Florida to her mother Anna Pedino who she is survived by and Roy V. Brown, She is also survived by her only sibling her little brother Eliseo (Lee) Pendino and several nieces .
In 1977 Alice married Gary Inkell Sr who survives her, although divorced some time later the two always remained friends. During her marriage Alice had 3 children all of which survived her, Tara Inkell and her husband Joe Crowder and Tara's two sons Armando and Harry, Devina Inkell and her son Brandon, and Gary Inkell Jr and his husband Nick Pappas.
During her life Alice had many jobs through her life from a clerk at several deli's where her beautiful smile and quick wit served her well through the hustle of each busy day, Alice also worked at multiple nursing care facilities including St. Cabrini and Morans rest home. Again where her beautiful smile and her compassion made her a great comfort for those she helped take care of.
Alice had a great sense of humor and could match wit with the best of them. Alice loved music from listening to her brother play his keyboard to dancing to the beat the dishwasher it made as it ran its cycle to teaching her kids to dance the lindy and the electric slide. When she could Alice would always find the time to get down to the river and go fishing, she always found peace sitting by the river watching the trains pass.
A saying Alice fond of was "I may not have much, but the love I give is free and is worth more than the gift they bought" and those who knew her best know just how true that is. Though she was not a rich woman she was wealthy with love and with understanding, no matter the situation love and acceptance would be given judgment never found.
At Alice's request a private memorial will be held at a later date
To send flowers or a remembrance gift to the family of Alice Inkell, please visit our Tribute Store.
Services
Funeral Home
Millspaugh Camerato Funeral Home
139 Jefferson Heights
Catskill
,
NY
USA
12414