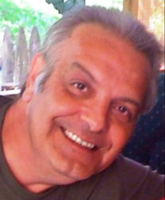 Calvin
James
Stoerzinger, Jr.
April 15, 2014
Obituary
Calvin James "Cal" Stoerzinger, Jr. of Livingston died Tuesday, April 15, 2014 at home, surrounded by his loving family. Cal lost his hard fought battle to cancer, he was 60 years old.
Born in Port Chester, NY he was the son of the late Calvin J. and Jean DiLonardo Stoerzinger. A graduate of Hudson High School, he met the love of his life Janette Ann Coddington in 1968. They married on January 9th, 1971. As a young man Cal began his love of sports.
He played little league for many years and as an adult, played in Greene County for LuLu's pizzeria. He was an avid New York Yankee's and New York Jets fan.
He was a passionate musician and as a young man he portrayed the part of the Major General in the performance Pirates of Penzance. He was the lead singer in the band "Outer Limits", and his band performed a telethon for Cerebral Palsy. In adulthood, Cal was a well-known Elvis impersonator. He performed for the MDS telethon in Albany, the American Cancer Society, multiple nursing homes and the Hudson Flag Day parade.
Cal worked for ShopRite Big V Corporation for 37 years. He was known as the Deli Manager in Menands, Catskill and then Hudson. A member of the Local #1, U.F.C.W., Cal served as Shop Steward. Cal became a small business owner when he opened the Video Hide-a-way Spot in Germantown with a friend. This business was part of the community for several years.
Cal was a loyal friend, a kind soul and a true family man. More than his love of sports or music, was his love for his family.
Beloved husband of Janette Ann Stoerzinger, loving father of Janette Ann Coletti (Brian) of Cairo and Calvin J. Stoerzinger III (Lisa) of Livingston; grandfather of Timothy Brian, Christian Brian, and Lauren Olivia Coletti and Crystal Renee Stoerzinger; brother of Gary Stoerzinger of Claremont, Carolyn Jennings of Livingston, Arthur Stoerzinger of Greenport and William Stoerzinger of Hudson. Many nieces and nephews also survive.
Calling hours will be Friday from 2-4 and 6-9 pm at Millspaugh Camerato Funeral Home, 139 Jefferson Hgts., Catskill. A funeral service will be conducted on Saturday at 10:00 am at the funeral home. Pastor Steven Williamson-Link will officiate. Interment will follow in Mt. Pleasant Rural Cemetery, Livingston.
Memorial contributions may be made to the American Cancer Society, St. Jude Children's Hospital, Columbia Greene Hospice or the Ronald McDonald House, Albany. Messages of condolence may be made to www.MillspaughCamerato.com
To send flowers or a remembrance gift to the family of Calvin Stoerzinger, Jr., please visit our Tribute Store.