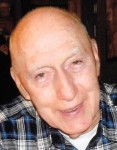 January 9, 2018
Born in Platte Clove
Resided in

Athens Town

,

Greene
Obituary
Written by Ed Dolan
To say gramps loomed huge in my life is an understatement. Before I was born, he was already influencing my life. My mom, who lost her father at a very young age, gained a father in gramps when as a teen she met my dad. Gramps filled that void she had like only he could do. I would do the same for my oldest daughter and stepson years later. Gramps was a man of actions that needed no words to describe those actions. I seen firsthand growing up how my mom was so very thankful for the role he took. How many times I watched him clean his hands with gas after working on a car that most of the time was not his. How many times I would hear grandma go on a rant and gramps would pour his coffee sit in his chair silent for a bit. I often wondered what he would think about in that time. Then grandma would calm down and tell him 'I swear you make me ughhh' then kiss him. As I became an adult, I understood him more fully. He was so in tune with his wife he knew his silence would calm her and eventually the Farrell fury would subside.
As he aged, I witness love and loyalty I will never see topped. As grandma became worse with her condition, I watched my aging grandfather love and care for his wife. I measured his strength not in weights he could move but the love he gave. I was so proud to see our gramps love grandma with such loyalty and compassion to the end. I watched as he allowed himself to fail physically in order to take care of his bride. When we witness the ones we love rise up to take on a challenge it is so inspiring. It showed me our gramps was the most unselfish man I knew. We moved where we drank our coffee to be close by because he would not leave her out of our gatherings. They give awards in Hollywood for love stories. However, in those years I saw the real love story up close play out on the hill.
After grandma left us, our relationship morphed into him opening up more to me about life and family. He was so very proud of hearing good things about anyone in this big family. He loved to talk family, work, and the topic of the day. He looked forward to going to the grave with anyone who would take him. The first time he and I went alone he asked me why you would want to go with me. I told him I loved him, missed grandma, and let's face it gramps we are not getting any younger. His reply in typical gramps humor was 'I know I just stumble around now like an old fool'. He always had a subtle humor. Those trips with him and my son are forever etched in my memory. He and Uncle Tom putting my son through different salutes and military questions are some of the memories from the last few months I will hold dear.
I want to finish this by telling all of you this. At some point, you were a conversation at coffee break. Each one of us. I heard so much from him about all of us here. Know his love and interest in each of us was real and strong. He was so proud of his kids. Girls know he loved the fact you chose men who were good people as well as good workers. He loved talking about all his son in laws and how they worked. Grandkids he tried so hard to keep up with the different things we had going on in life.
Gramps thanks for showing us all how to live, love and be loyal. May you and grandma watch over this wonderful family and continue to guide us. I love you gramps your pal Big Ed.
-----------------------------------------------------------------------------------------------------
Written and read by Cathy L. DelGaudio
If I asked anyone to describe Margaret Dolan, the first thing that would come to mind would be a "strong woman". Well it took a strong man like my Grandfather, to let a woman be her strong willed self. It took an even stronger man to live almost four years without the love of his life.
My Grandfather was the true definition of a family man and he was always his happiest surrounded by his children, grandchildren and great grandchildren. He looked forward to his daily coffee breaks with his sons and grandson, Eddie. At family parties he always wandered around the room visiting with every single person. During the Christmas holiday, he would visit multiple houses to watch the grandchildren open up their gifts and he certainly enjoyed the numerous plates of food that went along with it.
He never turned down a meal. You were his favorite person for the day if you dropped him off a sweet treat. Napoleons were the best thing to bribe him with if you needed him to keep a secret. He was known for his strong handshake and I am fairly certain I will never kiss a cheek as prickly as his with his 5 o'clock shadow.
Most of my childhood memories involve him, the benefit of growing up 100 yards away. When challenged in a race, he would purposely let us think he was losing, but would blow by everyone at the end. If he heard you hammering on something, he would wander down to the house to see what you were doing and lend a helping hand. Every afternoon he would drop off the newspaper and mail. It was always a competition between Lor and I who could reach him first. We would go running, screaming "Poppy!" and jump into his arms. He always waited for the last one before he lifted us both off the ground.
You could never get away with anything. When we were in high school and trying to sneak in late, we would turn off our headlights before heading down the driveway, but he would still always know and ask our Mother the next day what we were up to. Or if you accidentally started a fire in the woods, playing Indians with your cousins, he somehow would smell the smoke and wander down. Or if the cable guy was at the house, while our parents were gone, he would call to make sure everything was okay.
He was a mechanic at heart, anytime a new vehicle came down the driveway, he was the first one popping the hood or crawling underneath. He loved exploring the great West, tagging along on vacations with his family, and walking along the beach with his wife. He even tried to bodysurf once, but the waves quickly reminded him that they were stronger.
As much as we will all miss his bright smile and outgoing personality, I can look around this room, feel the love and see the legacy that my grandparents left behind. All because our Grandfather took his father's advice and asked Margaret out on a date.
-----------------------------------------------------------------------------------------------------
Read by Cynthia Carlson on the evening of Ed Dolan's wake:
In my son's house is a frame with a picture of Edward Dolan that says, "Some people don't believe in heroes, but they haven't met my Grandpa". Those words say it all about the son, brother, husband, father, father in law, grandfather, great grandfather, uncle, friend and co-worker and what he means to all of us.
My father was born a twin & the oldest of nine children. He loved and respected both of his parents, and after the death of his own father he helped his mother raise his younger brothers while raising his own young growing family.
He and my mother shared 65 years of marriage together, truly an example of love and commitment to one another.
Together they raised this large family.
Together they were devoted Catholics.
Together they traveled this country.
Together they danced and they danced whether at a weddings, parties or in the living room.
Together they would sit and hold hands on the porch, the couch and in church.
His large strong hands supported his family: as a mechanic and a Millwright. At the cement plant, he wore his "dress blues" and his hard hat proudly. He worked with his own family and friends, he impacted so many and was impacted equally by them. At this job he saved a man's life and also sadly he was there when another's was lost. After work coffee breaks happened everyday in our house, a table always full of family and friends. Happening right into December Paul, Tommy & Eddie meet at Dad's for coffee break daily.
Ed Dolan's hands raised and disciplined his family.
With those hands he swung little ones up over his head, gave piggy back rides, taught all of his children to swim and the boys how to tie a tie. Some us remember riding on his foot as he came through the door at the end of the day. Others can remember Saturday mornings when he and Mom would sit in bed with coffee and a pile of us kids at the bottom. Those hands of his held every new baby in this family. He loved to look the babies over, he was a world class baby burper and more often than not you would catch him napping with a baby. He fed numerous grandchildren their first sip of coffee off his spoon. Ed Dolan's handshake was one of a kind, firm with that little extra grip to show the younger generation he still was a force.
Too all of us Ed Dolan was a great man & larger than life, you didn't hear his footsteps you felt them. He is and always will be our hero.
-----------------------------------------------------------------------------------------------------
Obituary:
Edward J. Dolan, 90, of Athens passed away at Livingston Hill Nursing & Rehab Center on January 9, 2018, surrounded by his loving family. He was born, January 12, 1927 in Platte Clove to the late Frank and Helen Curran Dolan. He married the love of his life, Margaret Farrell, on January 8, 1949. They celebrated their 65th wedding anniversary in 2014 prior to Margaret's passing on May 1, 2014. They lived in Tannersville until 1963, moved to Catskill and later moved to Athens in 1987.
Ed was retired from the Atlantic-Blue Circle Cement Plant in Ravena where he worked for 27 years as a millwright. He was a WW II veteran of the Army Air Corps and a member of the Bunt-Brewer American Legion Post in Tannersville. When living in Tannersville, he served two terms as a Village Trustee. Ed was active, most of his life, in St. Patrick's Parish in Catskill and Athens. He also served as usher and did maintenance work at the former St. Bridget's Church, Leeds. When living in Tannersville, he was active in the Immaculate Conception Parish in Haines Falls.
Ed was known for being a great mechanic. He loved to work on trucks and cars and work on airplanes at the old Athens Airport where he had his own plane for several years. He and his wife loved to dance, but most of all he liked taking road trips with his beloved Margaret.
Edward is survived by his ten children Christine (Robert) Young, Cathleen (Ed) Hodor, Mary (Charles) Rappleyea, Paul (Jayme) Dolan, Thomas (Nancy) Dolan, Sharon (Robert) Del Gaudio, Michael Dolan, Phillip (Ronda) Dolan, Cynthia (James) Carlson and Colleen (Eric) Dolan-VanZandt; 24 grandchildren, 25 great grandchildren; sister Elaine T. Dolan and brother Frank Dolan and many nieces and nephews. His brothers Basil, Robert, William, Albert and Daniel and sister Elizabeth all died previously.
Calling hours will be held on Friday from 3:00 - 7:00 pm at Millspaugh Camerato Funeral Home, 139 Jefferson Hgts., Catskill. The funeral procession will form on Saturday at the funeral home at 10:00 am. A Funeral Mass will be celebrated at St. Patrick's Church, Catskill at 11:00 am. Spring interment will be in St. Francis de Sales Cemetery, Elka Park.
In lieu of flowers, donations in Ed's memory may be made to St. Patrick's Church, 66 William St., Catskill 12414 or the Alzheimer's Association on NENY, 4 Pine West Plaza, Suite 405, Albany, NY 12205. Messages of condolence may be made to MillspaughCamerato.com.
To send flowers or a remembrance gift to the family of Edward Dolan, please visit our Tribute Store.
Services
Burial
Pending
Burial
Pending
Calling hours
Millspaugh Camerato Funeral Home
139 Jefferson Heights
Catskill
,
NY
USA
12414
Sharing
Millspaugh Camerato Funeral Home
139 Jefferson Heights
Catskill
,
NY
USA
12414
Funeral Mass
Funeral Mass
66 William Street
Catskill
,
NY
USA
12414