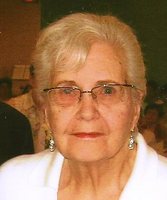 Obituary
Margaret F. Dolan of Athens, passed away at home on May 1, 2014 surrounded by her loving family.
She was born on October 23, 1928 in Platte Clove to the late Edward M. and Clara Hamilton Farrell. She married Edward J. Dolan on January 8, 1949 and they celebrated their 65th wedding anniversary this year. They lived in Tannersville until 1963, moved to Catskill and later moved to Athens in 1987.
Margaret (Peg) worked as a nurse for many years at the Greene County Memorial Hospital. After leaving the hospital she worked as the office nurse for Dr. John Myers until he retired. A devoted Catholic, Margaret was active for most of her life in the Parish of St. Patrick of Catskill and Athens as well as St. Bridget's in Leeds as Lector and Eucharistic Minister. When she lived in Tannersville she was active in the Parish of the Immaculate Conception in Haines Falls. She had also been a member the St. Patrick Grammar and High School Parents' Council and the Rosary Altar Society of St. Bridget's Church. In 2009 she was honored by Bishop Hubbard with other women of faith for her years of service to God. She liked to knit and crochet gifts for her family and charity. She enjoyed dancing, but most of all she loved taking road trips with her beloved husband, Eddie.
Margaret is survived by her loving husband Edward, her ten children Christine (Robert) Young, Cathleen (Ed) Hodor, Mary (Charles) Rappleyea, Paul (Jayme) Dolan, Thomas (Nancy) Dolan, Sharon (Robert) Del Gaudio, Michael Dolan, Phillip (Ronda) Dolan, Cynthia (James) Carlson and Colleen (Eric) Dolan-VanZandt; 24 grandchildren, 24 great grandchildren; half-sisters Betty Bush and Patricia May; sister in law Elaine T. Dolan, brother in law Frank Dolan and many nieces and nephews. Her brother Jack Farrell died previously.
Calling hours will be held on Sunday from 2:00 – 6:00 pm at Millspaugh Camerato Funeral Home, 139 Jefferson Hgts., Catskill. The funeral procession will form on Monday at the funeral home at 9:00 am. A Funeral Mass will be celebrated at St. Patrick's Church, Athens at 10:00 am. Interment will follow in St. Francis de Sales Cemetery, Elka Park.
In lieu of flowers, contributions in her memory may be made to St. Patrick's Church, 157 Bridge St., Catskill, NY 12414 or Community Hospice, 47 Liberty St., Catskill, NY 12414. Messages of condolence may be made to www.MillspaughCamerato.com.
To send flowers or a remembrance gift to the family of Margaret Dolan, please visit our Tribute Store.