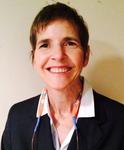 November 27, 2016
Born in Bangor, ME
Resided in

Catskill

,

NY
Obituary
Margo Pelletier of Catskill, NY died on November 27, 2016 peacefully in her home.
Born in Bangor, Maine to Daryl W. Pelletier and Gloria Dow it was clear from an early age that Margo was going to be an artist. Encouraged by her family, she was allowed to stay home from school to work on her art projects. Margo's early influences were Corita Kent and Andy Warhol. She first began pursing the arts as a painter, printmaker and sculptor eventually showing her work in museums and galleries in the greater NYC area.
In the early 90's Margo was one of the founding members of the artist community at 111 First Street in Jersey City, NJ owning the print shop Colorgirls and was the Co-Founder along with her former partner, Nancy Mahl of the artist advocacy group Progressive Culture Works. Margo's fine art is in the collections of The Library of Congress, The Elizabeth Foundation and The Bob Blackburn Printmaking Workshop. She attended some of the finest art schools in the Northeast, Boston Museum School of Fine Arts, Hartford Art School and obtained her BFA from Cooper Union of Science and Arts. Among the many people Margo shared her life with was the American photographer, Nan Goldin whom she dated and lived with in the early 1970's in Boston prior to Nan's rise to fame.
In 2000 she was one of two Americans invited to the International Women's University in Hamburg, Germany to represent the U.S. in the Arts.
In the late 1970's and early 1980's Margo met and worked with the May 19th Communist Organization in Brooklyn, New York and soon there after was asked to join and eventually head up their propaganda facility, the Madame Bihn Graphics Collective. In an action to expose Apartheid in 1981, Margo was arrested and spent six months as a political prisoner in Rikers Island. Those six months perhaps more than any other experience in her adult life aside from being post-queer shaped the foundation of much of her work to come.
By the late 90's Margo became interested in the medium of sound and began studying it at Bard College. It was there she began making dramatic pieces that evoked film sound-scapes. After a short time of consciously not allowing herself to work in images, Margo decided to take her new work in sound and coupled it with her experience as a visual artist, which naturally led her into film making. In 2000 with her wife Lisa Thomas, Margo formed the film company, Thin Edge Films .
Since that time Margo directed the award winning films, Freeing Silvia Baraldini (2009) and Thirsty (2016) as well as the short films Out of Service (2004) Cast to the Wind (2008) and 142 Years (2012) and the music video All That I Am (2016) for soul / jazz artist, Nicky Egan. Margo was also the co-host of the radio program, The Score, (from 2010-2014) on WGXC 90.7 FM.
Margo is survived by her wife Lisa Thomas, and her four siblings Joan Ellen Pelletier, Renee Egan, Daryl Cerone and John Pelltier and her wonderful cat Zorro. A celebration of her life will be held at TSL in Hudson, NY on Sunday January 29, 2017 time to be announced.
In lieu of flowers the family would like contributions to be made to Food for the Poor.
To send flowers or a remembrance gift to the family of Margo Pelletier, please visit our Tribute Store.
Services
Celebration of Life
Pending
Charities
Food for the Poor
6401 Lyons Road
Coconut Creek, FL 33073
HELPING THE POOR IN 17 LATIN AMERICAN AND CARIBBEAN COUNTRIES

www.foodforthepoor.org