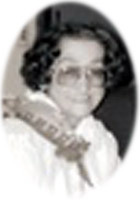 Obituary
Paraskivie "Parie" Appa, 76, passed away quietly in sleep on October 9, 2006 at Albany Medical Center.
Born in Catskill, January 13, 1930, Parie was the eldest daughter of the late James P. and Ida Amanda (Kepp) Cotullas, having been named by her native Greek father. She was married fifty years to Anthony Appa, Sr., who predeceased her in 1999. Parie was proud of her long German ancestry, dating back to 16th century. She was especially proud of being a sixth generation direct matrilineal descendant of Capt. George Nolf, Pennyslyvania Militia, who served his country heroically in the American Revolutionary War.
A talented artist and creative crafter, Parie took great interest to learn new skills, making contributions to many shows for the Clematis Garden Clock and the Ten O'Clock Crafters. Parie also painted several Athens town scenes.
A special joy was having "the girls" to her house for lunch or going out together. She attended St. Patrick's Catholic Church in Athens and sang in ecumenical church choirs. Besides being a busy homemaker, she had been employed occasionally at the Athens Knitting Mill and the American Tree and Wreath in Coxsackie.
Parie is survived by her son Anthony Appa, Jr. and his wife Anna, her sister Vasilia "Billy" Coons Williams, nephew Glenn Coons and grandniece Cheyanne Coons, all of Illinois; her brother James N. Cotullas of Hudson, her niece Carol Ann Coons Cohrs, grandniece Amanda Cohrs and grandnephew Daniel Cohrs all of Florida, and her cousin Carl R. Nicholls of Pennyslyvania.
Private cremation was conducted at the Albany Rural Crematorium under the direction of the Millspaugh Camerato Funeral Home at 139 Jefferson Heights in Catskill. A family memorial service will be held on October 28 at the Catskill Rural cemetery.
To send flowers or a remembrance gift to the family of Parie Appa, please visit our Tribute Store.