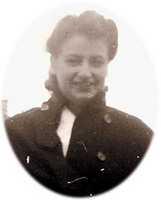 Obituary
Pearl M. Albrechtsen, age 83 of Hudson, formerly of Athens and Catskill, died Friday, October 20 at the Columbia Memorial Hospital's Community Hospice unit where she had been a patient since October 16.
She was born in Athens on January 28, 1923 to the late William H. and Saima Matson Gorts. She graduated from Athens High School in 1941 and Columbia Memorial Hospital School of Nursing in 1945. She worked as a registered nurse at Greene County Memorial Hospital in the Maternity ward and retired in 1988. Ms. Albrechtsen was an active member of the First Reformed Church in Catskill and a member of the Catskill Crafters specializing in baby sweater outfits.
Survivors include two daughters: Diane and Donna Albrechtsen of Hudson as well as many nieces, nephews, and cousins. She was predeceased by her son Bruce of Albany in 1998, three brothers: Rev. Edwin Gorts in 1997, John William Gorts in 1995, and Toivo A. Gorts in 2004 in addition to her sister Evelyn Heath of Vero Beach, FL.
Funeral services will be held on Tuesday, October 24, 2006 at 2 p.m. in the Remembrance Chapel of the Millspaugh Camerato Funeral Home at 139 Jefferson Heights in Catskill. Rev. Vicky Eastland, pastor of the First Reformed Church in Catskill will officiate with interment following in the new Athens Rural Cemetery.
Friends and relatives are invited to call at the funeral home at 1 p.m. prior to the service. Memorial contributions may be made to the American Heart Association and the Community Hospice of Columbia-Greene.
To send flowers or a remembrance gift to the family of Pearl Albrechtsen, please visit our Tribute Store.