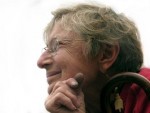 July 23, 2017
Born in Staten Island
Resided in

Greenville

,

NY
Obituary
Sherell Jacobson, Sculptor, Art Advocate, Activist, Dies at 88.

Born in 1928, in Staten Island, New York. Sherell Weinstein was the daughter of Harry, local pharmacist, and Mary, a milliner.

A lifelong learner, 'Shez' graduated from Port Richmond High School to Brooklyn College. Majoring in Art, she completed her first-in-family bachelor's degree at Bradley University in 1949. As an adult, she studied ceramic arts at Greenwich House in Manhattan, in Florence, Italy, and Haystack Mountain School in Maine. In her 60s, she began two years of residency at the University of Maryland, earning her MFA in Sculpture in 1994.

She married Robert Jacobson, a Staten Island dental student, in 1951. Living in Manhattan, Sherell designed window displays for Fifth Avenue retailer Alfred Dunhill, before joining the interior design firm Lucien Piccard.

She raised a family in naval officers' quarters on Parris Island, SC during Robert's tour of duty. Returning to Staten Island, the family grew to six children.

Shez was a vital figure in the 1960's Staten Island arts community and the contemporary crafts movement. Her gallery, The Hand and Wheel, introduced many influential craftspeople to the public.

After moving to Sergeantsville, New Jersey in 1976, she reopened The Hand and Wheel near that town's covered bridge.

Sherell was an activist in many preservation projects, successfully defending the Staten Island Greenbelt from a funded highway project and fighting industrial exploitation of the Hudson and Delaware Rivers. Sherell and Robert donated a stretch of pristine coastline in Deer Isle, Maine to the Nature Conservancy. In her seventies, Shez led the successful preservation of historic downtown Catskill, NY then scheduled to be razed by Greene County.

As an artist, Sherell exhibited widely, including the opening of the Albany International Airport Gallery. She was an active member of the Tivoli (NY) Artists' Cooperative. Her distinct vision was recognized by the Yaddo art colony, which selected her for a resident fellowship. She pioneered the downtown art scene of Hudson, NY with her Warren Street studio.

Sherell is known for her distinctive organic sculpture in steel, stone, paper, clay and found materials. No less significant is the creative mark she leaves in the homes she and Robert discovered, inhabited and transformed. Dozens of these houses can be found across historic Staten Island, coastal Maine, South Jersey and along the Delaware River, rural Virginia, Mexico and the Hudson Valley.

She loved to roam the American countryside as well as India, southern Europe and the Middle East.

Sherell and Bob have long helped sustain Temple Israel of Catskill NY. At one point in their late seventies, they were its youngest congregants.

Her greatest influence is on the people with whom she lived. She is survived by Robert, her husband of 65 years, as well as five children: Dov, Stephanie, Peter, Jim and Matt, and is preceded in death by her son Douglas. Her network of loved ones include twelve grandchildren, two great grandchildren and innumerable friends.

Sherell gently died in her husband's arms on July 23, 2017.

A gathering of family and friends will be held on Friday, July 28th from 1:00 - 2:00 pm at Millspaugh Camerato Funeral Home, 139 Jefferson Hgts, Catskill. At 2:00 p.m. Rabbi Zoe B. Zak of Temple Israel, Catskill will conduct at memorial service. A period of mourning will be observed at the Jacobson residence on Friday, following the service, until sundown and on Saturday from 11:00 - 4:00.

Memorial contributions may be made to Haystack Mountain School of Crafts, POB 518, Deer Isle, Maine 04627 www.haystack-mtn.org.
Services
Gathering
Millspaugh Camerato Funeral Home
139 Jefferson Heights
Catskill
,
NY
USA
12414
Memorial Service
Millspaugh Camerato Funeral Home
139 Jefferson Heights
Catskill
,
NY
USA
12414
Charities
Haystack Mountain School of Crafts
POB 518
Deer Isle, ME 04627
Created as a research and studio program in the arts, Haystack's original mission was to teach fine craftsmanship, develop latent or inherent creative ability, and carry on research and development in connection with the crafts. Over the years, the vision was refined to include the investigation of craft in an aesthetic climate, honoring tradition while acknowledging the rich potential of contemporary visual art. People come to Haystack to develop and discover skills, to nurture their creativity, to ask questions, to reassess their work, and to push into the unknown. The combination of a stunning natural setting, a unique campus designed by award-winning architect Edward Larrabee Barnes, and the focused energy of the school community, provides an environment that supports a serious exploration of craft, ideas and imagination.

http://www.haystack-mtn.org