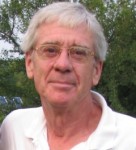 May 21, 2018
Born in Amityville, Long Island
Resided in

Hudson

,

NY
Obituary
William Charles Koch, Jr., 71, of Hudson, NY passed away on May 21, 2018 at his home. He is survived by his wife, Mary, his sister Linda Marino, his five children Robert, Jennifer Andrews, David, Kenneth and Theodore and his first grandchild, David Aksel Andrews.
William was born on September 7, 1946 in Amityville, NY to Gertrude Johnson Koch and William C. Koch, Sr. William graduated Wellington C. Mepham High School in North Bellmore, NY. He joined the US Air Force and served as a pharmacy medic. After completing his service, William enrolled at Albany College of Pharmacy, where he graduated in 1975. He married Mary Evelyn Koch on June 21, 1975 and they made a home in Ithaca, NY and later Hudson, NY.
As a pharmacist, William served his community well and was known by many wherever he lived as a good source of advice and engaging conversation. He worked for many years as a pharmacist at Fay's Drugs, first in Ithaca, NY and later in Hudson, NY. In 1992 he joined the US Public Health Service where he held a variety of positions for the remainder of his career. He worked in a community health clinic in Tsaile, Arizona as part of the Indian Health Service. William later became part of the National Disaster Preparedness Team and was sent as part of the response to Hurricane Katrina. He also worked for the VA and FDA Bureau of Prisons and Immigration. He retired in 2009 with the rank of Captain.
After his retirement, Bill transformed from Pharmacist to Farmer creating a raw milk dairy and caring for a small herd of Dutch Belted cows. He was up every day before dawn to milk cows, tend to chickens and pigs and take care of a myriad small tasks. He was always accompanied by his terrier Cree on fence mending rounds and trips to pick up hay. When the farm tasks let up he would pop into the bed and breakfast to regale guests with stories while he made coffee.
He loved sailing, canoeing, hiking and biking. He organized countless family outings to nearby lakes and trails. When he wasn't outdoors he could be found with a spackle knife at the top of a ladder or under the family car with a wrench. He patiently restored several family homes over the years and it seemed there was no task he couldn't do.
William was a loving father with a zeal for family adventure. He was at his best guiding his family on farflung road-trips and possessed a superhuman ability to drive through the night while his passengers slept.
Friends and family will be gathering at Thyme in the Country in Hudson, NY 12534 to acknowledge Bill's life and share memories of him. Please join us on Wednesday, May 30, 2018 at 5:00PM. There will be a time of sharing beginning at 6:00 pm.
Memorial contributions may be made to the Rensselaer Plateau Alliance, PO Box 790 Averill Park, NY, 12018
To send flowers or a remembrance gift to the family of William Koch, please visit our Tribute Store.
Services
Gathering of friends and family
Gathering of friends and family
671 Fish and Game Rd
Hudson
,
NY
12534
Sharing
Gathering of friends and family
671 Fish and Game Road
Hudson
,
NY
12534